Oil change in the gearbox of Nissan Leaf Замена масла в редукторе.
Which oil ? / Какое масло?
Nissan Leaf Owner's Manual, page 9-2.
1.1 liter
Руководство пользователя Nissan Leaf, стр. 9-2.
1.1 литр Genuine Nissan Matic Fluid S
PART NUMBER 999MP-MTS00P
BUT it is Transmission oil!!! NOT reduction gear oil!
Servicemen are recommended NOT oil from Leaf's manual because it reduction gear!!!:
"pour oil for gear pairs, any GL, 75w90, 75w140 or 75w250 (redline, if the winters are not fierce)"
!!Gear oil!!
mobil shc 629, 630, 634 (самое вязкое)
mobil/redline 75w90, 75w80, 75w140, 75w250(redline only)
НОМЕР МАСЛА 999MP-MTS00P
НО это трансмиссионное масло !!! НЕ редукторное масло!
Технари рекомендуют НЕ масло из руководства, потому что это редуктор !!!:
"залить масло для зубчатых пар, любые GL, 75w90, 75w140 или 75w250 (красная линия, если зимы не свирепствуют)".
When change? когда менять?
The instructions say that every 40 thousand km check, every 200 thousand change В инструкции сказано, что каждые 40 тысяч км проверяем, каждые 200 тысяч меняем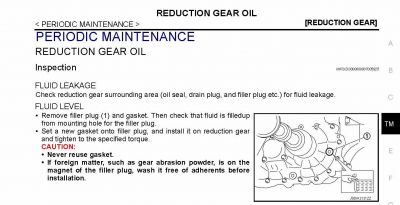 To change oil fast - use it "DIY bottle"
фото с форумов mynissanleaf.ru / photo from forums mynissanleaf.ru